Our commitment
Matériaux Pont-Masson has adopted the motto: "the ultimate in service". First and foremost, providing exceptional service means providing the members of our team with a healthy, enjoyable and respectful working environment. It is only through the expertise, attentiveness and attitude of our team that our clients receive such excellent service.
​Our commitment to our clientele also includes our commercial practices with our suppliers. Our business relations are based on solid values such as respect and integrity, the quality of the products that we offer, extremely competitive prices at all times and the excellence of the services that we provide. These attributes are directly reflected in the quality and prices of the products and services that we offer to our clientele, and we are committed to building trustworthy relationships with our stakeholders.
Finally, our clientele is the lifeblood of our business. We are committed to always providing them with the best possible service and doing everything required and possible to meet and even exceed their expectations. By providing our clientele with helpful advice and accurate information, our goal is to build their trust and develop solid and lasting relationships.
​In conclusion, we believe that it is crucial to share our resources and our expertise in order to build a better future for our children. Our commitment toward society is reflected in the donations that we make to a variety of deserving organizations and our promotion of ecologically responsible practices within our industry with a view to encouraging sustainable development.
Matériaux Pont-Masson makes every effort to build relationships of trust by respecting its commitments and its stakeholders. We are committed to continuing on this path, and to serving you.
Matériaux Pont-Masson and its employees
At Matériaux Pont-Masson, the well-being of our employees is a priority, and we believe that good communication between the members of the team contributes to a healthy and enjoyable work environment. We are committed to treating the members of our team with humanity and respect and in recognizing their value.
We are committed to open communication focusing on the efforts of every member of the team, to cooperative problem solving and to ensuring collaboration among the various links in the vast chain of services that we provide for our clients. Toward this end, we work hard to develop continuous training programs designed to give everyone a sense of usefulness and competence within their respective areas of activity.
As such, we are seeking candidates who are dynamic, curious, committed to providing exceptional customer service and excited to be part of a team.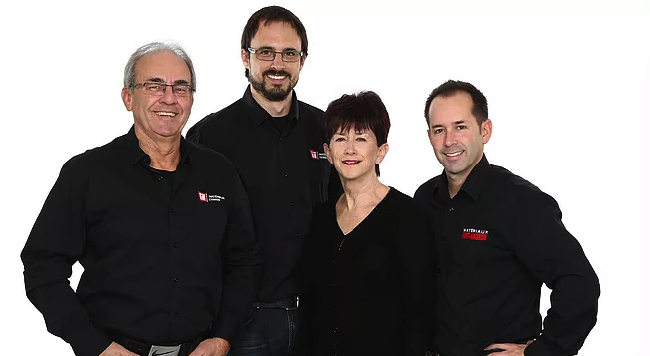 Our Story
The builders' reference since 1979
It all began in 1979, when Monique and Richard Bailey founded Matériaux Pont-Masson Inc., then located in Notre-Dame-du-Sourire, near the Masson Bridge. The small hardware store faced giants established for decades in the industry. The hard work to offer excellent service and always give an accurate picture to customers has propelled the company over the years...
1979 : Matériaux Pont-Masson is founded, near the Masson bridge in Notre-Dame-du-Sourire.
1987: The renovation centre moves to Salaberry-de-Valleyfield in a larger space
1992: Acquisition of the Rigaud branch, constituting the second sale outlet of Matériaux Pont-Masson Inc
2004: Éric and Stéphane Bailey become co-owners of Matériaux Pont-Masson Inc
2012: Matériaux Pont-Masson builds and opens its Mirabel branch, on Route 158.
2013: A wind of renewal blows on the Rigaud branch: its shop and its wood yard are completely renovated.
2015: Matériaux Pont-Masson acquires Alfred branch, constituting its 4th point of sale. Also in the same year, two divisions are founded: Arctic Supplies, specializing in export to the Far North, and Matériaux Design, a unique showroom for interior and exterior finishing products.
2016: The acquisition of Structure du Nord, a company of design and manufacture of roof trusses, constitutes the 3rddivision of the group.
2017: Matériaux Pont-Masson inaugurates its 5th point of sale in Casselman, Ontario.
2019: In the spring Matériaux Pont-Masson opens its 6th location in Roxboro, then inaugurates it's distribution centre in Staine-Clotilde-de-Chateauguay, which becomes its 7th branch.
2022: In January, Matériaux Pont-Masson aquires FV Lalonde in Les Coteaux, its 8th location.
Today Matériaux Pont-Masson, true to its tradition, exploits its three divisions and its eight sales outlets while offering a wide range of products and services for consumers, entrepreneurs, self-builders, businesses and industries.